Project Log: Sunday, January 9, 2011

I spent a little bit of time sorting through the pile of newly-sanded teak bulwark trim pieces, inspecting each piece and setting aside those that required any sort of gluing, bunging, or other repair. Most of the issues I found were located at too-thin half-lapped board ends, many of which featured slim cracks emanating from the ends. One of the boards had some old fastener holes (probably from swim ladder brackets) that I decided to bore out and bung.

After prepping the boards as needed, I mixed up more epoxy with teak dust and cabosil and did what I needed to do. Most of the cracks I hoped to stabilize were too thin to truly glue together, so, much like that squiggly tar that road crews put in the pavement cracks, I applied the epoxy to the surfaces of the cracks, getting it into the seams wherever possible.

None of this was ideal: the wood isn't ideal (it wasn't ideal when it was new, as none of it is prime teak stock), the repairs aren't ideal, and the original installation wasn't ideal, but for what these were, all this ought to be fine. The wood cleaned up quite well, and I was sure these pieces would look very good once varnished, despite the inherent flaws.

The boards would be stable once reinstalled; none of the joints are under stress in their installed locations, and the cracks would cease to become an issue, but at a minimum I hoped that these attempts to seal and stabilize the cracks would help minimize the ingress of water into these cracks and, in turn, behind the varnish.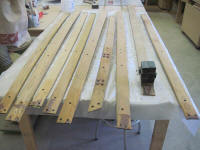 Unfortunately, this was all I had time for.

---
Total Time Today: .75 hours
< Previous | Next >