Project Log: Friday, July 8, 2011

Using the 1/4" plywood template as a guide, I prepared two sections of 12mm Meranti plywood for the ends of the dinette platform, cutting them somewhat oversized so I could place them in position and make the final layout/cut lines. The after section (right, below) was just shy of the full length needed to reach the hull, as this dimension was greater than 48", but it was close enough to make up the difference with a fillet and tabbing during final installation.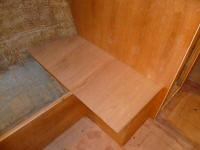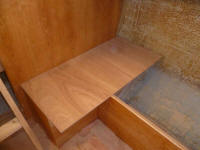 After trimming the two end sections to their final shape, I used leftover pieces of the original template to make the final template for the center section; I hot-glued some scraps to the plywood to hold the two sections in the proper orientation to one another. The straightedge represents the actual location of the inboard edge of the piece required.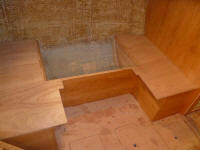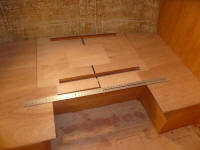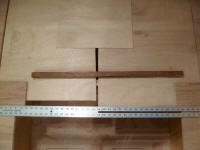 After cutting the final section, I fitted it in place.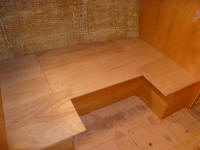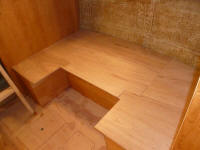 Using some reference marks on the bulkheads from my initial layout of the dinette, I relocated the position of the backrest along the long outboard side, and drew some new, accurate layout lines both on the bulkheads (to represent the 10° backrest) and on the platform itself. This allowed me not only to test the position by sitting on the platform, but also to determine the locations of access hatches required in the platform. My final seating dimensions were all based on points 4" above the platform, to represent the thickness of the cushions.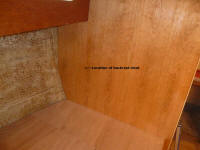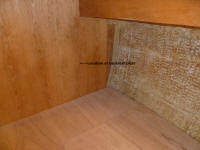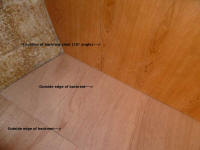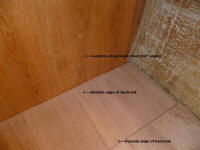 With these layout lines determined, I removed the platform sections and laid out/cut out access hatches in each section. I considered adding additional hatches towards the outboard edges of the sections, in the area that would later be behind the backrest/cabinet face, but determined that such hatches were unnecessary, since I could easily reach all areas from the existing hatches, and since the new hatches would be over the curved portion of the hull in areas where any items stored would naturally be accessed through the other large hatches.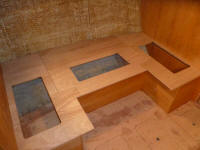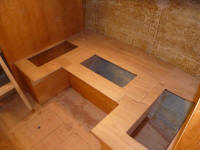 ---
Total Time Today: 3.5 hours
< Previous | Next >