Project Log: Friday, March 18, 2011

Late one afternoon, I prepared the panels I'd cut out the day before by epoxy-coating the back sides, and applying a sealer coat of varnish to the exposed sides.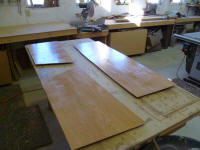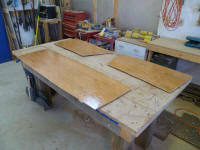 With these treatments now cured, I took the two smaller side panels up to the boat and temporarily held them in place with some cut-to-length cross braces so I could mark the port openings from the outside. Then, as in the main cabin, I cut out the port opening, leaving 1/4" - 1/2" of material inside the cut line for later trimming. Then, I covered the face side of the panels with paper to protect the veneer during panel installation.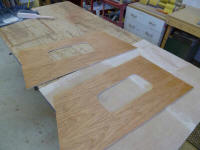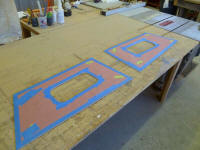 Up in the boat, I installed the two side panels with 5200 adhesive, just like I did in the main cabin. I clamped all around the port openings, and added two cross braces at the forward end to help hold the panels tightly into the adhesive.

At the starboard aft end, I found a need for a small clamping block, which I temporarily screwed to the main bulkhead and used to force in a pair of wedges to press that corner of the new panel tightly into place.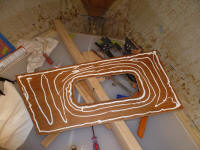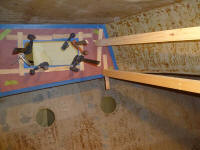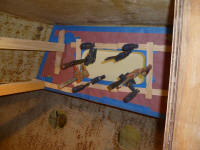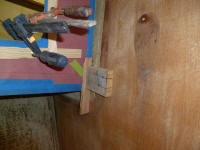 The impediment of the cross-bracing and protruding clamp ends, along with frustration at the annoying time I'd had keeping the lower forward cross brace in place (it was inexplicably resistant to staying in place), precluded any chance of attempting to install the panel across the forward end at this time, so I left that for another day.

---
Total Time Today: 1.75 hours
< Previous | Next >