Project Log: Monday, January 2, 2012

Using the template I made at the end of the day, I cut a shelf for the port side of the engine room/tankage space. I cut the shelf to 10-1/2" wide at the ends, leaving ample clearance for access to the inspection ports on the tank tops. I used leftover 1/2" cherry plywood for the shelving, as that's what I had on hand.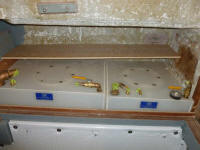 Using the same plywood template I'd used for the port side, I created a template of the matching starboard shelf, scribing the plywood to fit. The level and clamp in this photo are holding the thin plywood from sagging in the center.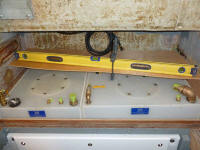 I transferred the template shape to more 1/2" plywood and cut out the starboard shelf.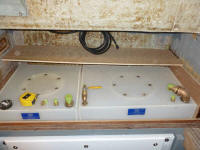 To finish off the shelves before installation, I glued on a plywood doubler at the inboard, unsupported edge of the shelves, which would help stiffen the plywood over its length. Then, I secured a plywood fiddle to each shelf with epoxy, chosen for additional strength. These utility shelves would eventually be painted, so I didn't worry about my epoxy fingerprints. the selection of cherry plywood as the material was simply because of its availability. I would have liked to have built these shelves from 18mm Meranti plywood, and would have if I'd had any on hand, but wasn't about to buy a sheet just for this purpose.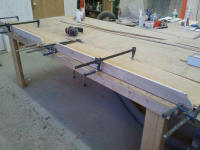 To help support the shelves, I epoxied mahogany cleats to the hull at the centerpoint of the shelves. There was no need for a full-length cleat.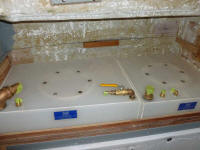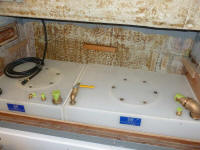 To support the narrow, recessed shelves at the top ends of the longitudinal pilothouse bulkheads, I required an additional cleat, located on the back side of the bulkheads. In turn, I placed each bulkhead in position and, working from the narrow space inside--though there was plenty of access--I marked the bulkhead beneath the inner edge of the shelf.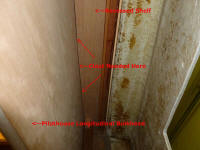 With the marks made, it was a simple matter to cut and install hardwood cleats on the bulkheads with glue and screws. I used panhead screws here (normally I use flat head screws countersunk flush) as these cleats would never be seen, and this saved me a couple steps in the installation process.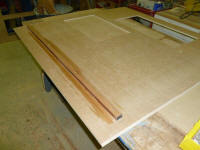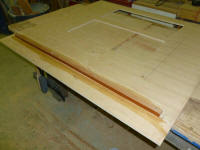 I knew there'd be wiring and hoses running through the tankage spaces, and to prepare I installed a series of wire tie mounts in a final step before painting these areas; the mounts didn't stick well to painted surfaces, so I took the opportunity now though I didn't know exactly how or where the runs might be.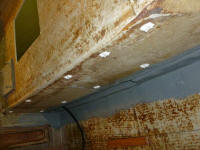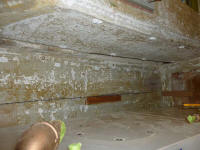 Behind-the-scenes work on this day revolved around continuing fine-tuning of the electrical panels as I approached the final specifications and near-future ordering; I'd need the panel details finalized so I could mock up and eventually build the helm and navigation console. Details on the panels to follow when appropriate.
---
Total Time Today: 3.75 hours
< Previous | Next >