Project Log: Saturday, December 7, 2013

To get started, I removed the tape and paper from the other areas of the deck, exposing all surfaces once more. This revealed the slight paint edge in areas where I'd overlapped the primer between deck sections. Smoothing this seam away, where applicable, was a straightforward sanding task. The foam masking tape I'd used along the contours of the pilothouse and after coaming step worked well to create a feathered paint seam with no hard line; on the coachroof, I'd not used the foam, but the area to blend was wide, and I'd intentionally not brought the new primer up as far as the tape line, creating only a minor overspray seam to sand and blend smoothly. I also had to blend a paint seam at the base of the forward bulwarks, but apparently didn't take any pictures of that area.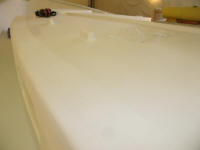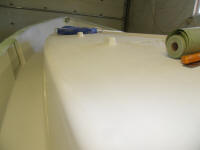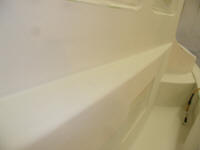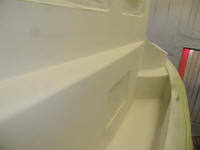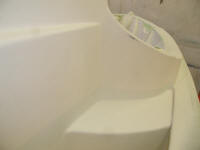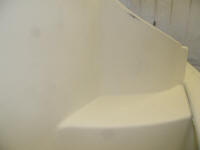 This completed the primer work on all areas of the deck, so after cleaning up the boat and shop, vacuuming and solvent-washing, I turned to the final deck masking to lay out and cover the eventual nonskid field areas, the last step before applying gloss topcoat.

Working from the "top" down, I started with the pilothouse roof. Around the edges and various molded contours, namely the molded rails defining the large overhead hatch, I left 1-1/2" borders and masked off the remaining areas--which would receive nonskid paint later--to protect them against overspray.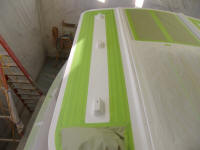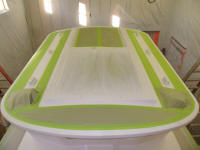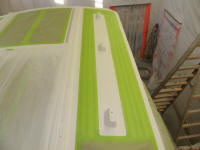 I continued with the coachroof, again leaving 1-1/2" borders along the edges, hatch openings, handrail bases, and along the raised amidships section of the area. This took me up till quitting time; I'd continue with the remainder of the deck next time.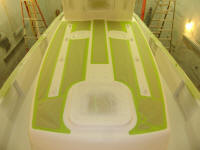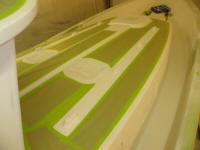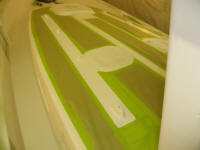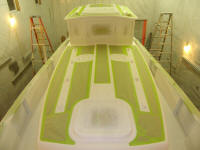 ---
Total Time Today: 6 hours
< Previous | Next >