Project Log: Monday, June 3, 2013

Over a period of a few days, a little here and there, I made some tentative steps towards my hopeful--and planned--return to more serious work on this project in the near future. Along with continuing my agonizingly slow varnish work on the interior doors (I seemed to find time for about one coat per week or so, but was just about ready for the satin coat(s)), I started clearing out space around the boat in "my" side of the shop. Over time, the space beneath had become clogged up with various storage and supplies, plus the inexorable clutter that eased in from the edges and corners of the shop.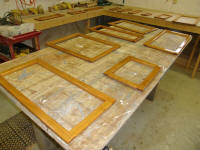 I made these efforts because I planned to move the boat over to my other shop bay, my clean, empty bay which I had long ago dedicated to "real" work. I knew that it would be better to have her over in that bay for the work ahead, which would focus on some final exterior work (mainly in the cockpit) and, at long last and much postponed, the exterior painting. With a few months of smaller "real" work projects ahead, I decided now was the time to get Momentum moved over, partly as a motivating factor, and partly because the work would be more efficient in the open, uncluttered work bay on the other side.

With enough of the clutter cleared out to allow me to move the boat, I picked her up on my trailer and transferred her to the adjacent shop bay, where I expected she'd remain through the summer before emerging with her fresh paint.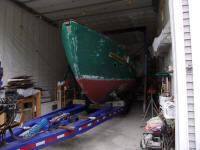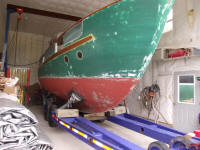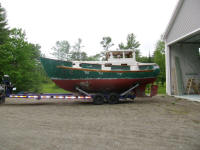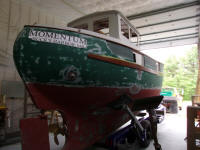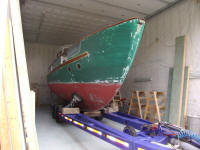 With clear space around in her new home, I looked forward to soon beginning the final stages of exterior work.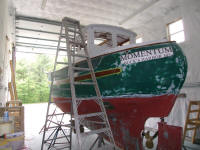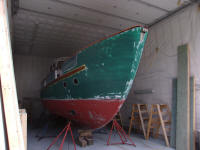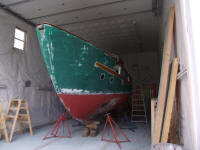 ---
Total Time Today: 4 hours (over several days)
< Previous | Next >