Project Log: Thursday, March 27, 2014

After final preparations, I painted out the inside of the chainlocker. I'd be able to do some final installations here soon.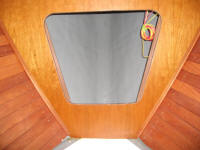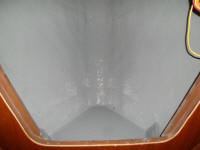 A warehouse snafu had sent me the wrong hose for the head, so I wouldn't have the hose I needed to complete the head installation right away, but I could still move forward with some of the final steps in the head, including installing and wiring up an overhead LED lighting fixture. This simple task took some time by the time I collected the tools and materials required and decided exactly how and where to install the fixture. I had to punch and drill a hole through the side of the fixture to allow the wires through for the installation I planned.

For this space, it worked for me to lead the wire neatly through white split loom along the overhead and into the cabinet outboard of the head, where I connected the wires to a terminal block I'd previously installed.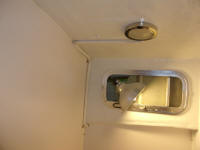 ---
Total Time Today: 2 hours
< Previous | Next >