Project Log: Saturday, November 15, 2014

Starting up in the cabin, I sanded the first coat of varnish on the sole, and also on the four small hatches, then, after cleaning up, applied the second base coat.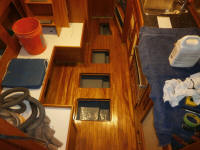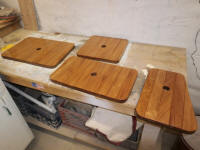 With a router, I trimmed the overhanging plank ends and edges from the pilothouse sole panels, and milled the small chamfer on the ends and elsewhere as required. I found that I needed to slightly deepen the mortises that I'd built in for the lifting hardware, so I used a router and a plunge bit to freehand a slightly deeper cut into the plywood. Then, I temporarily installed the hardware to have a looksee, and to prepare the holes for ease of final installation later.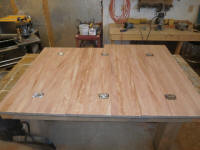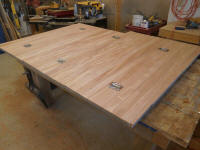 The final thing to cover with Khaya sole material was the beam across the aft end of the pilothouse, which supported the longitudinal beams that held up the three sole panels. I cut a series of short pieces of the sole material and, throwing them into a messy pile, chose them randomly to secure to the sole substrate atop the beam. Shortly thereafter, I milled the edges flush and, as elsewhere, chamfered the edges to match.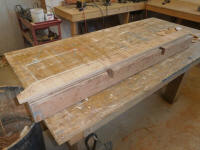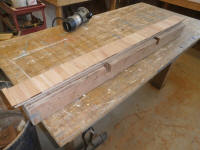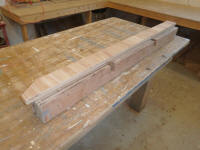 From some of the leftover pieces of cabin sole planking, I prepared several pieces of trim that I'd use as base trim around the perimeter of the cabin sole. I simply ripped the sole into a pair of 3/4" trims, one from each side and incorporating the already-chamfered edge. I prepared more than enough for the job to account for any cutting mistakes along the way.

With the milling work and sole installation complete, I installed a sealer coat of varnish on the pilothouse sole panels, after support beam, and baseboard trim pieces.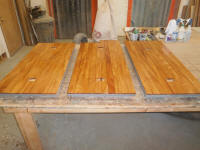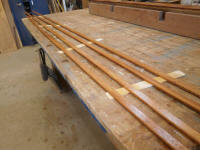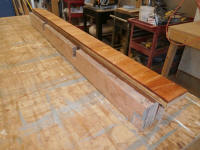 ---
Total Time Today: 3 hours
< Previous | Next >