Project Log: Saturday, September 13, 2014

One of the last tidbits on the mast (for now, at least) was an anchor light (all-round white light at the masthead). I wanted LED for its low power consumption, but couldn't bring myself to buy a $300 anchor light now (Misea, Aqua Signal, and others), so I settled on the Davis Mega Light, one of which I'd used on a previous boat (though I later replaced it with an Orca Green light, which was very bright and effective...this has morphed into the Misea light available today). I was wishy-washy on the Mega Light during my previous experience, as I'd found the earlier version to be fairly dim, and the housing filled with water over time, but for 1/10 the cost it'd work fine for now, and perhaps they'd improved it given the advances in LED technology since 2003, when I installed my first one.

The light came with its own mounting bracket, and installation was a simple matter of four drilled/tapped holes, Tef-Gel, and machine screws, after which I connected the wiring to the conductor I'd run up the mast much earlier.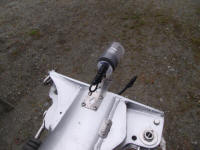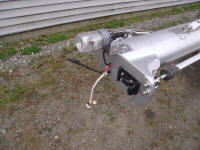 I wanted to get that out of the way so I could wrap up the masts and move them into storage. Using clear plastic tubing, I covered both spars to provide a modicum of protection, and later moved them over to a nearby off-season storage area across from the shop.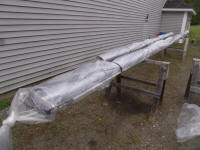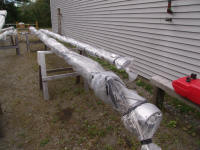 The shop had collected too much junk during the latest period of inactivity on the boat, and with the autumn/winter "what else am I going to do on weekends" productive shop hobby season starting to get under way, I spent some time cleaning up, removing some stuff, and reorganizing what was left to make it a happier place to wile away my winter.

Meanwhile, I worked on my overall project list, and revised the original version I'd created back in the spring when I was still planning to commission the boat in time for the season. For now, I went through the boat to reacquaint myself, reorganized my list, removed completed items, and eliminated the priority ratings I'd introduced in the spring, since now it was time to just finish everything during the coming months, come one, come all.

Revised Task List (Google sheet opens in new window)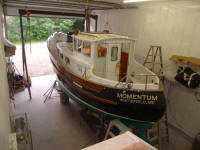 ---
Total Time Today: 2.25 hours
< Previous | Next >