Project Log: Sunday, January 16, 2011

I nearly succumbed to the temptation to re-use the existing plywood cabin sole section in the passageway leading to the forward cabin, the final section of cabin sole required at this time. The original piece, including its teak veneer, was the same height as my new main cabin sole, and was a good fit in its designated area.

In the end, though, I decided to replace it with new 18mm marine Meranti; I had adequate supply on hand, and I knew I'd feel better. Using the old piece as a template, I cut the new section to size; afterwards, I penciled in a hatch, cut out the opening, and installed support cleats beneath.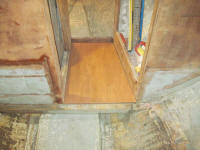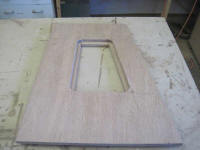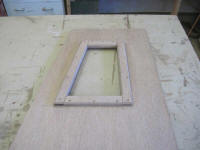 I had one step remaining as I prepared things for the new cabin sole, and that was to paint out the bilge areas beneath. Painted bilges look nicer, and are also easier to keep clean and dry. A good boat begins with a clean, dry bilge.

After vacuuming and solvent-washing the area, I applied a coat of gray Bilgekote to all areas, leaving the bearing surfaces of the support beams unfinished so as to better accept adhesive later, and similarly stopping the paint on the hull at a point level with the tops of the beams, leaving a bare area where I'd bond the edge of the plywood to the hull.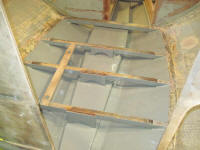 To round out the pre-installation work on the cabin sole, and also to round out the day, I cleaned up the edges of the cabin sole hatches I'd cut out yesterday, drilled finger holes for access (the final product might feature something other than raw finger holes, but that was for later), and coated the edges and bottom sides of the hatches and the new passageway sole section with epoxy resin.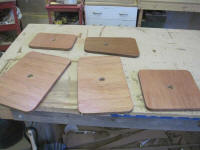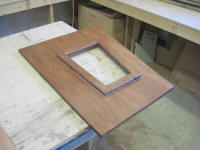 ---
Total Time Today: 3.25 hours
< Previous | Next >