Project Log: Sunday, August 19, 2012

Working while standing on the port side of the engine room, with the floor removed, meant that the steering pump was directly at lobotomy level. After three or four losing bouts with the raw, unprotected end of the steering wheel shaft, I got smart and wrapped the thing in a heavy mass of rags.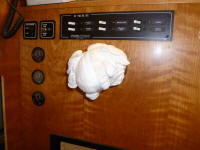 I spent the morning wiring up the autopilot computer. In addition to the hydraulic pump wiring and steering feedback sensor wires, I was also required to install power supply lines and a network cable for the SimNet system, which would eventually tie this instrument--and all others--together into a single system.

The wiring was generally straightforward. The computer featured wire clamps designed for bare wire ends, so I didn't have to fuss with installing connectors on the wires (though I think ring terminals are better than these ones that crush the wire behind a screw, but I didn't design the computer and greater minds than mine apparently think this is the best way). According to the wiring diagram, I installed the various wires in their proper positions on the wiring board, and secured them to a supplied strain reliever beneath.

Left to right: power supply (red-yellow); autopilot hydraulic pump (yellow-red, which are actually blue-brown in the cable supplied with the pump); ground (yellow); feedback sensor (gray); SimNet cable (red-black-white-blue).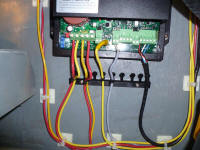 Afterwards, I led some of the wires, as needed, into the adjacent steering console through a new hole and conduit.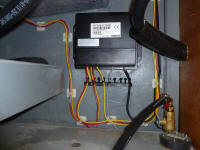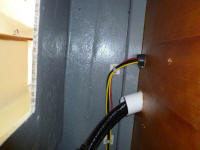 Inside, I made up wiring connections to a negative distribution buss, completing those runs, and positive terminal block for the positive power supply wire (#22), which I'd later connect to a main power supply buss. I left the SimNet cable unattached for now; the other end of this cable, with its proprietary connector, would eventually connect to a SimNet connector buss when I started to lay out that part of the system.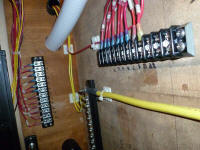 ---
Total Time Today: 2.5 hours
< Previous | Next >